DeNovo's Technology Driven Model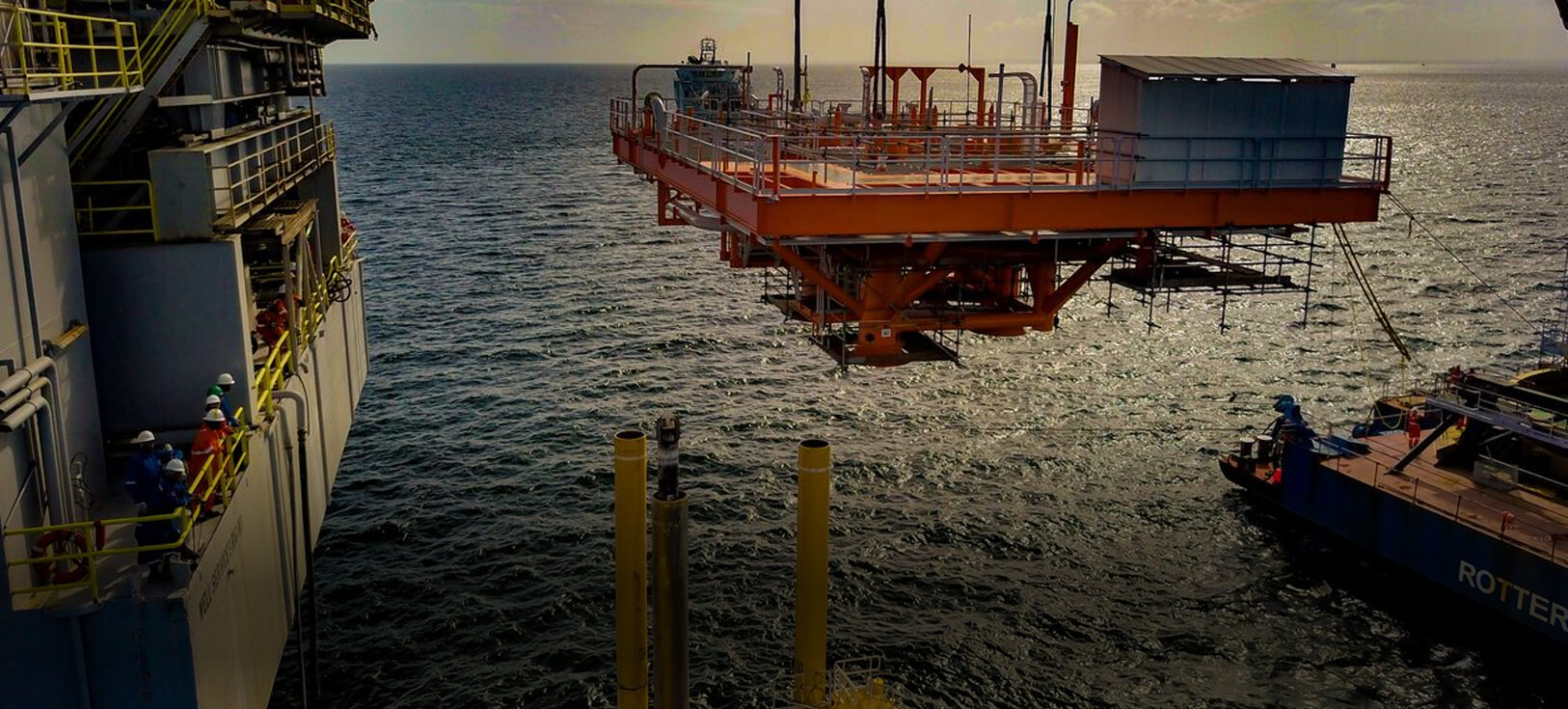 Monday February 11, 2019
ENERGY NOW, MONDAY 11TH FEBRUARY 2019
DeNovo moved from start-up, new upstream operator to Trinidad and Tobago's first local natural gas producer in just under 3 years, delivering first gas from the Iguana field in Block 1(a) in November 2018. Founded in 2016 by Joel "Monty" Pemberton, DeNovo's Iguana greenfield development involved drilling three production wells, installing a Sea Swift conductor supported
platform, along with a 45 km offshore and onshore pipeline, and constructing an onshore Gas Processing Unit with a capacity to process up to 90 MMSCFD of natural gas. This was the first west coast gas development campaign to take place in Trinidad and Tobago, and the fast-track delivery was executed with over 73% local content from over 2.6 million manhours with zero (0) Loss
Time Incidents (LTI's). According to Pemberton, DeNovo's notable success with Iguana is a result of "strong local leadership and powerful global collaboration, where maximising on business intelligence strategies and leveraging proven technology enabled our team to effectively manage risks, quickly make informed decisions, and utilise automated, integrated processes to optimise performance."
From the beginning the strategy was clearly articulated; build a lean, agile organisation with inhouse subject matter experts who can quickly, safely and economically monetise stranded gas reserves. With a significant amount of undeveloped pools across Trinidad and Tobago, Pemberton saw the strategy aligned with the Country's needs and potential, especially at a time when gas shortages were adversely affecting the Industry and economy. However, the development model for monetising stranded gas needed to ensure that project and operating economics were aligned to the cost base for small pool extraction, so DeNovo's approach was to explore and utilise proven technology solutions with verified processes that can maximise the possibilities for an economic greenfield development.
As with most start-ups, the team initially operated with limited physical resources – operating out of a borrowed office with personal laptops, mobile phones and shared desk space. As the team grew, supporting systems were purposefully selected to maximise user interface experience from multiple locations, and enhance the connectivity of people, processes and systems. "DeNovo
can practically operate as a virtual office," Pemberton explained, "all we need is internet access and we can link into our operations. Connectivity was critical as DeNovo grew, because we ended up with a team working from 12 different countries and we needed everyone connected, talking to each other, and accessing real time information. This was one of our key enabling factors, and we saw the power of this ease of connectivity especially during our drilling campaign, as our teams in Pt. Lisas, Aberdeen and Japan were able to monitor live data from well tools and logs on the Rig 110, analyse and compare findings, and provide real time feedback to the drilling team on location 24-
7. Given the limited subsurface data that was available for Block 1(a), our approach proved especially useful for ensuring a successful campaign."
The Iguana platform subsea structure and deck were fabricated in Houma, before being transported to La Brea where the deck was outfitted. DeNovo had 24-7 livestream connections to all the activities taking place, including the construction of the GPU in Pt. Lisas, which ensured oversight of all activities and live engagement by the project team wherever work was executed.
Secure, reliable and mobile connectivity has remained a core part of DeNovo's operating philosophy, promoting efficient collaboration across locations while making the transition from project delivery to operations. A cloud-based approached propelled DeNovo's paperless agenda, and provided the flexibility, adaptability and security to keep information storage and access digitised.
The business intelligence framework was then created by pairing this connectivity and mobility with the digital integration of systems and process, along with artificial intelligence applications, so that DeNovo's team can leverage data and information to provide actionable insights and predictions to achieve business objectives. "Our systems essentially speak with each other, sharing data, identifying trends, and predicting events and changes in our operations," explained DeNovo's Chief Information Officer, Richard Shepherd. "This framework allows our team to access key operational insights through dashboards and reports which are used to effectively identify, mitigate and manage risks, and make quick, informed decisions and interventions if needed. For example, we are visualizing and extrapolating gas, sand and water production information from the Iguana field and are able to compare this with preproduction reservoir models, take interventions where needed, and ultimately optimise production from the asset."
Technology solutions have been, and continue to be implemented across DeNovo, evolving the ways in which the organisation operates and deliverers. As Shepherd explained, "DeNovo had the advantage of a greenfield project, so we utilised, and are still utilising proven technology from other areas which may seem disruptive in the local Energy Industry, particularly by how we implement the solutions. For instance, we selected a tightly integrated system for Enterprise Asset Management (EAM) which was customised to meet our data needs, business functions and strategy. This is currently being implemented and will enable us to maximise production uptime, minimise operational downtime, and optimise the value, performance and longevity of physical assets."
As an equipment-intensive organisation, DeNovo needs to ensure performance reliability from equipment to increase production and cost efficiency. DeNovo's EAM framework incorporates predictive maintenance and condition-based maintenance functions, along with intelligent operations and asset sustainability capabilities for administration, asset management, work management, materials and logistics management, procurement, budgeting, inspection, safety, project management and reporting. "The result is a single integrated system utilised by all disciplines where processes, resources and functional contributions are aligned and coordinated to facilitate planned and predictive maintenance through robust reporting and big data analysis," explained Shepherd. "The framework also creates a transparent audit trail for what is done, when and why, while facilitating improved planning, especially for capital expenditure and inventory management, and greater team engagement and communication across disciplines. With this integrated approach, we can manage our warehouse and storage needs, reduce the risk of revenue leakages through inventory purchasing, and still maintain confidence in our ability to procure the right services and supplies when needed."
By embedding digital systems, tools and processes throughout the organisation from the start, DeNovo created standards for how the team interfaces with each other and with the technology solutions. "The biggest challenge with implementing any seemingly new technology will always be with people, because you're trying to convince people to operate differently," says Pemberton. "DeNovo didn't build any new technology, the tools chosen may have been new to our Industry but have all been used and proven around the world. Yes, we have been implementing tools and ideas a bit differently based on our vision and strategy, but our guiding principle remains the same – enhance our ability to make the job easier, smarter and more connected. When you're working with a team of experts with deep industry experience, getting them to try seemingly new and often very different ways of operating when they're moving quickly and focused on delivery is not easy. Therefore, it was important for us to implement standardised ways of operating with the technology, and we continue to enhance user experience based on feedback from our team. Digital transformation is a journey, and I'm excited by how our team has developed and continues to develop. We understand the need to constantly challenge ourselves to evolve, especially as the industry continues to change around us, and I think that is an important learning we can share with Trinidad and Tobago, as our country evolves in an ever changing and increasingly technology- driven world."
One significant result of embedded automation is a relatively low headcount for the size of DeNovo's operations, which is another core part of DeNovo's strategy as outlined by Pemberton. "Having a lean team of subject matter experts allows us to work quickly together, and interact closely with each other, especially when it comes to risk management and decision making. A structure like this can only be sustained with a strong and supportive technology framework. Our confidence in the systems we have developed and the technology solutions we have implemented, enables us to only need three operators overseeing all DeNovo's offshore and onshore activities from one control room on our GPU. Repetitive administrative processes have been automated so that our team focuses on analysis and delivery, and continue to build a culture where our team feels comfortable to challenge the ways in which we operate or intend to operate, with the intention of finding the best processes for achieving our objectives. There is common understanding of our business objectives and enabling capabilities across DeNovo, and this supports the different approaches taken and systems implemented."
The results of DeNovo's technology driven approach to gas field development has resulted in a lean and agile organisation with a proven model for quickly and safely delivering greenfield developments. It is a model that Pemberton believes can be scaled and easily adapted to different reserve pools as the business grows. "We have proven our ability to innovatively manage upstream risk, get natural gas safely and profitably to market, thereby delivering strong results. We delivered numerous firsts in Trinidad and Tobago during this project; using a jack-up rig to install the platform subsea structure; installing the first west coast natural gas pipeline to Pt. Lisas; and monetising a gas field that remained stranded for over 30 years after being discovered. Our virtual presence enables us to connect and collaborate with multiple stakeholders across the world, and our integrated processes and technology solutions provide a full real-time view of our business activities. DeNovo was built by leveraging the collective learnings from our Energy Industry and applying cutting edge technology applications and practice. We will continue to evolve to meet the needs of our changing industry for the benefit of all stakeholders and the common good."